I'm also going to include a complete 'One Time Offer' system you can use to present to new subscribers after they signup to your list...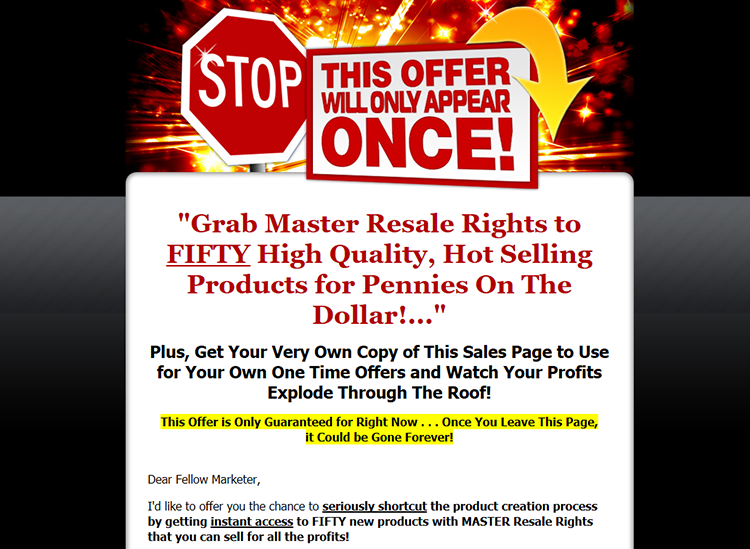 This package includes a KILLER bundle of
FIFTY high quality "Internet Marketing" related ebooks and software products with FULL Master Resale Rights
(which you also receive) and
pays you INSTANTLY 100% of the profits
for every sale you make!
Since this system is targeted to the Internet Marketing niche, you can use it with all your squeeze pages, giving you a proven income stream with little effort!
Plus you can even sell this package separately to your existing subscribers and customers if you wish.
With your Master Resale License to this complete MEGA product package you will receive:


Your own Instant 'One Time Offer' System
which earns you
100% of each sale
paid DIRECTLY to YOU!

50 turnkey products with Master Resale Rights
you can
use and sell
individually for
100% PROFIT!


High quality minisite design template with
stunning, eye catching graphics

Professional Sales Letter creates urgency
and leads your customers to the order button!

Ready to go,
pre-configured
Download Page
delivers your package
automatically
!

Included 'Thank You' Page for
capturing your buyers names and email addresses

Easy to follow
VIDEO instruction
makes setup a breeze and
shows you how to install resale rights products in 60 minutes or less!

The rights to modify the package and
add your own products!


With this AMAZING package, having a complete turnkey sales funnel setup and ready to profit is now reality!