Looking to build a responsive list that actually gets sales?...


"Learn The

Simple Blueprint

For

Building A Six Figure List

Using This
Powerful

Untapped

VIRAL Strategy!"

You Are About To Discover The

Proven Formula

Used By The

Most Successful

Internet Marketers To Build Their Own High Converting

BUYERS LIST

Quickly And Easily!

Finally you can build a

profitable list

by
leveraging the efforts of others...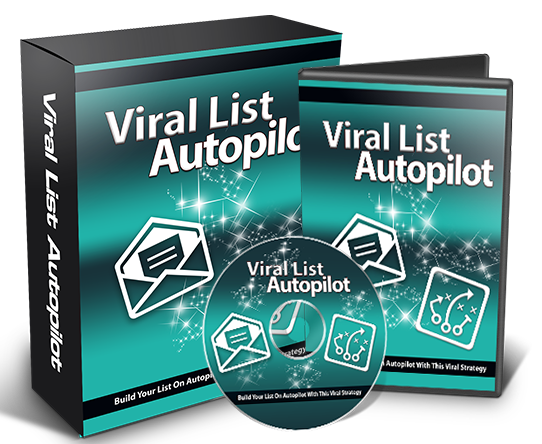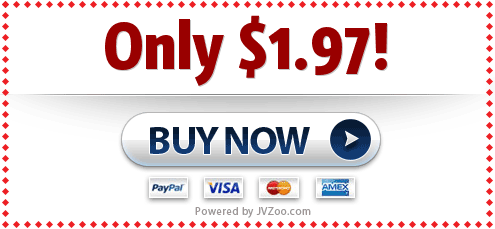 Grab Your Copy Of Viral List Autopilot Now And Discover:
Video Module 1: Introduction & Overview

In this video you will be given a quick introduction and overview of the course itself, so you can get started launching your first viral list building campaign. There are a ton of ways to build your list, but I'll show you a powerful system that really works and how to use it.

Video Module 2: Free List vs. Buyers List

In this video we'll discuss the difference between a free list and a buyers list. You'll learn how to build a high converting buyers list WITHOUT selling your own product, and why it's important to focus specifically on this method.

Video Module 3: The Viral List Autopilot Strategy

In this video you'll see first hand the complete strategy broken down so you can get a clear understanding of how it works before moving forward. By using this system you will have an extremely simple and effective way to build your buyers list without any complicated, confusing, or expensive strategies!

Video Module 4: High Value Offers Formula

In this video you'll learn the formula for creating high value offers you can place on the thank you pages of product vendors in your niche, allowing you a proven way to "piggyback" off other people's efforts and siphon their customers into YOUR list!

Video Module 5: Finding Quality Product Vendors

In this video I'll share valuable tips on how you can find quality product vendors you can work with to get your thank you offers in front of their customers. I'll discuss how to select vendors who are getting sales and ensure you are building a quality buyers list by partnering with them.
Video Module 6: Creating High Value Thank You Offers - Part 1

In this video I'll reveal a free tool you can use to properly analyze product vendors and their customers, so you can create a high value thank you offer specifically targeted to the buyers individual needs and wants. By taking this initial step you'll get more vendors willing to accept your offers and more customers wanting to purchase from you.

Video Module 7: Creating High Value Thank You Offers - Part 2

In this video you'll watch as I take you through step by step how to plan, create and launch a high value thank you offer by putting everything that we have talked about into action. You'll learn how to create a quick & easy outline and develop an amazing offer that's hard to resist.

Video Module 8: Building Your Buyers List - The Complete Process

In this video you'll see the complete process for building your buyers list using the Viral List Autopilot strategy in just 5 simple steps. We will discuss how to approach vendors with your specialized offers, what you must do to ensure a successful campaign, and what you must avoid that can cost you the deal.

Video Module 9: Building Your Buyers List - The Affiliate Method

In this video I'm going to show you another way to build a profitable buyers list virally while earning commissions as an affiliate. This method allows you to shortcut the process and practically guarantees a successful campaign each and every time!
This is a high profit training that will totally open your eyes to a powerful new way of building your buyers list quickly without much effort!

This course is for anyone who is struggling to build their list and make money online, and isn't like any of the other courses you've ever seen.
This is a complete 9-module video series that walks you step-by-step through everything you need to build your list on autopilot and make money online right now!

Just click the button below, and you'll get access to the entire Viral List Autopilot Video Series revealing all of the above and more!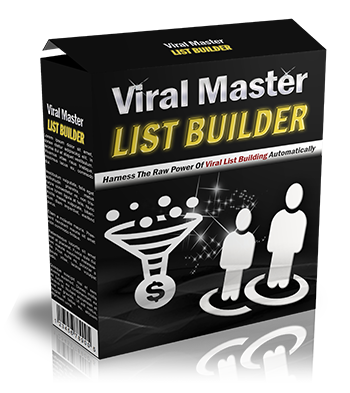 Powerful New Software

Turns ALL Your MRR & PLR Products Into
VIRAL LEAD MAGNETS
You Can Use To Build Your List

Easily & Automatically!

Now You Can Grab

MASTER PLR Rights

To
The

Viral List Autopilot

Video Course...
Plus Get The

PLR Reseller Salespage!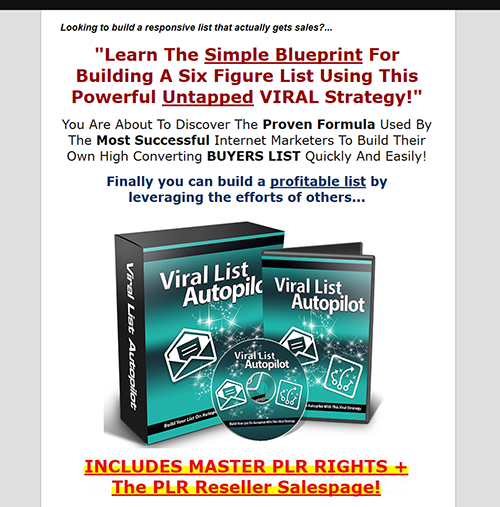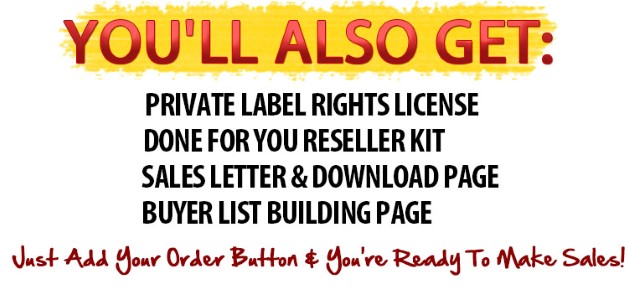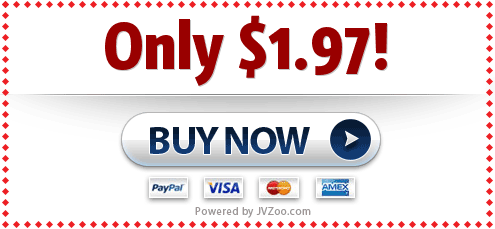 YOUR MASTER PLR RIGHTS LICENSE:

Sell PLR Rights to the Viral List Autopilot
PLR package. Resell it, rebrand it, keep all the profits!





Order The MASTER PLR RIGHTS To
The Viral List Autopilot Package
At A Special Limited Discount Price...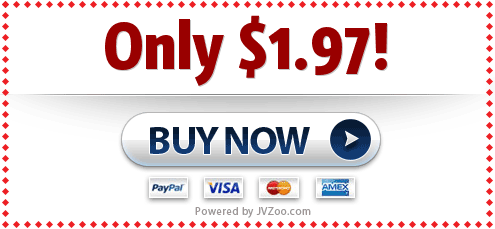 Copyright © InstantProductPacks - All Rights Reserved.
Terms | Disclaimer | Privacy Policy | Anti-Spam Policy | Contact